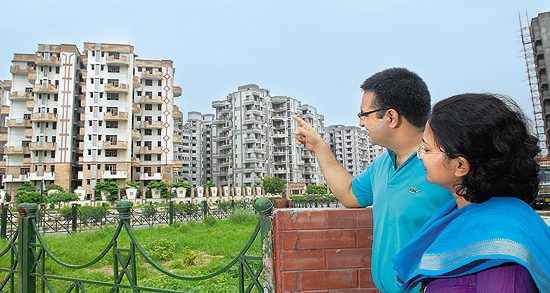 Can Fin Homes (BSE: 511196, NSE: CANFINHOME) is a housing finance company promoted by Canara Bank (having 42% stake). Housing Finance has been a very rewarding sector in past (look at HDFC, LIC Housing and GRUH Finance). Thus the discussion on Can Fin caught our immediate attention.
Can Fin focuses on affordable individual home loans and is concentrated in the southern India. Until 2011, the company had been growing at a marginal pace of around 7%. The Silver Jubilee year and the change in management seems to have brought about a new enthusiasm though. Since then the business has been growing at a rapid pace of about 30% p.a.
| | | | |
| --- | --- | --- | --- |
| Details | 2011 | 2012 | 2013 |
| Disbursements | 472 | 859 | 1814 |
| Loan Book | 2207 | 2674 | 4016 |
| Branches | 40 | 52 | 69 |
| Gross NPA | 23.47 crore | 19.01 crore | 15.66 crore |
| Gross NPA % | 1.06% | 0.71% | 0.39% |
| Net NPA | | 0 | 0 |
Looking at the support by the government towards cheaper financing for affordable housing, there seems to be good growth opportunity ahead.
Financial Snapshot (detailed financials on Screener):
At CMP of about 153, the company is trading at a market capitalization of just 315 Cr, while having a good loan book of 4000 Cr and gross NPA of just 0.40%. Stock is trading at 6 times earning with a price to book value of 0.80.
Concerns: 1. We are cautious on the real estate sector as there has been exponential growth over last few years. Hence quality of loan book remains a key monitor here. 2. Being a PSU company, it may lack aggression if there is a management change.
Other Updates
Ajanta Pharma: The company has done superbly and so has the stock price. The stock has been one of the best performer of 2013 and the price has almost doubled in less than 5 months. Though the undervaluation available earlier has gone away and stock has got its due re-rating, it still seems to have some potential. [Earlier post on Ajanta].
Caplin Point: One of our readers, Bhushan, pointed out some negative feedback on the company. Looking at the other opportunities in the market, we have decided to exit.
Apcotex: The company has delivered decent results. Though the margins were under pressure but the company has maintained liberal dividend and increased the same to Rs.9 per share. Given the expansion plans going forward, it seems to be a good stock to remain invested.
Accelya Kale Solutions: We had mentioned about this company recently. The company declared very good Q3 results and has also declared a generous interim dividend of Rs.30 per share.
New Ideas
VST Tillers – VST is one of largest seller of power tillers in India and with a good market share and brand name. Power tiller is a compact farm mechanization tool quite commonly used in small farm lands. It's quite useful as it is cheap and there is strong subsidy support of about 50-60% of the total cost of the tiller by the government. The company is also into tractors and is trying to scale up in this area.
VST has had a very good past track record with a consistent compounded growth of about 25% in turnover and profitability over a long period. However, in recent times the performance got affected due to some subsidy delays. It seems the problems have been solved and the company would be back to normal. The stock is available at attractive valuations of 6 times earnings and a price to book value of about 1.2.
AstraZeneca Pharma India – The parent Sweden company, AstraZeneca, is a $40 billion pharmaceutical player known for top of the line product profile. Many of its products are the best in their area with patent protections. The Indian subsidiary used to do very well untill about 2011. Then they got into several problems and they undertook a voluntary revamp of production facilities. Several of their product supplies got affected due to this, and the company started posting losses (the stock too tumbled from 2000 levels to 800 level). Based on the recent developments, it seems the company has completed the correction procedure and would be soon be back to business as usual. As per yesterday's announcement, the parent company has provided a voluntary non-repayable financial grant of Rs.119-140 Cr to the Indian company. This is a rare move and shows their commitment towards their Indian operations. Stock seems interesting for long term investing.
We invite the views of our readers through comments.